This page may contain affiliate links. As an Amazon Associate I earn from qualifying purchases. If you want more information, please see my Affiliate Disclosure.
Self care is an absolute necessity, but if you're not careful it can get very expensive. Let's be real here, most of us don't have the money, or the time to get our nails done and get massages on a regular basis. But just because many of the more traditional self care practices are on the expensive side doesn't mean you can't make it happen on the cheap.
In this article, I'm going to show you that self care doesn't have to drain the bank. All of these advertised here are listed at under $10 as of the day I hit the publish button. Since I am not the one who dictates the prices of these products, there is a chance they could become more than $10 at some point. Hopefully that doesn't happen, but just be sure to check the price before buying.
Unwinding at the end of the day with a warm bath and a face mask SCREAMS self-care! Even if you are short on time or funds, nourishing your skin with a face mask is a great way to take care of yourself. These all natural face masks are said to be good for those with sensitive skin as well.
Pro Tip: Put your jade roller and gua sha in the freezer before using them. The cold stone is so relaxing! Jade rollers and gua sha's are said to be beneficial for promoting lymphatic drainage. Though some say it's not that effective, it's still highly relaxing to use, so we'll call that a win!
When you think of self-care products, bath bombs are one of the quintessential items everyone includes in their self-care kit. These particular bath bombs are super affordable, plus with hemp oil and lavender essential oils, they are perfect for creating the perfect relaxing aroma during your bath.
Affirmations are an excellent self-care tool for anyone to use. I personally like writing down my affirmations myself, but having these pre-made cards are a great idea for busy people who need a positive word right away.
Journaling is yet another fantastic self-care item to incorporate into your daily routine. Guided journals such as this one are especially great because it basically does all the mindful thinking for you. All you gotta do is fill it out! No need to come up with something unique prompt on your own! Perfect for those who want to benefit from journaling, but don't have the current creative brain capacity to do it from scratch.
If self care is something you are planning on prioritizing in your life, this self care tracker pad can be a great tool for keeping up with your self care, even during tough times. This can also make a great gift for any loved one as well.
If you're a "Mean Girls" fan, then you know all about the Burn Book! Consider this your very own burn book! No, you're not going to gossip and slander those you have a beef with in it, but it is a really fun guided journal full of hilarious and thought provoking prompts. This also makes a perfect gift for anyone looking for a funny yet thoughtful guided journal.
Prayer is such an effective form of self care, as well as soul care. For those of us who live hectic lives and struggle with making daily prayer happen, using a prayer journal is an effective tool to use.
I've seen these eye masks all over social media, and honestly they are just so cute! Skincare products can be effective as well as cute, and these eye masks are no exception.
Having dry skin is just the worst! These all natural hand and foot lotions are perfect for your next at-home spa night!
I love using coloring books as a self care practice. Curling up with a box of colored pencils, a cup of tea, and a coloring book is one of my favorite evening wind-down activities. This particular coloring book is just so pretty!
Salt scrubs are excellent for people with dry sin, and such a great addition to add to your next spa day.
These steam eye masks are said to help promote blood circulation and blood flow to your face. Whether that's true or not, who the heck knows, but steaming my eyes at the end of a busy day sounds pretty nice!
These perfectly curated happy notes are such a cute way to add a little bit of joy to your day. Stick them wherever you may need to see a positive message.
I already talked about how coloring books are one of my favorite self care tools to use. This is yet another beautiful coloring book perfect for those looking for a creative way to wind down for the evening.
Physical care IS self care, and staying hydrated is an absolute necessity. Most of us are not drinking as much water as we should. Getting a cute water bottle that helps you keep up with your water intake is one of the best self-care gifts you can give yourself.
Taking care of your physical health will make huge differences in your mental health. Whether yoga is your thing, or you just want something squishy to stretch or exercise on, a yoga mat is one of those small things anyone could benefit from having on hand.
Imagine this: it's a cold night on one of those long winter months we all have a love-hate relationship with. You get yourself your favorite herbal tea, sit on the couch with a book, and put this warm blanket over you. I'm sure this will give you a good night's sleep! Whether that good night's sleep is on the couch or your bed, only you would know!
Like I said, most of us are not drinking enough water. Making the things we drink out of cute and appealing sure makes it easier to get those 8 glasses a day!
I literally use this exact scalp massager every single day when I take a shower! Not only is it great for promoting hair growth, but the massaging bristles are nice and soft, which is perfect for my super thin hair. This will definitely make your next bath time very relaxing!
Nobody likes cold feet! Keeping your tootsies warm is a great way to ward off those winter blues.
Getting stressed is bound to happen. These stress balls at least make managing your stress motivational.
Writing letters to loved ones is such a unique act of self-care, and I wish ore people would do it! Keeping in touch with family, friends, and loved ones is one of the best things you can do for your mental wellness. Plus, handwritten letters are so thoughtful and loving!
There's a reason why everyones grandma seems to be into jigsaw puzzles. It's because exercising your problem solving skills is great self care, and jigsaw puzzles are an easy way to get your brain cells to work.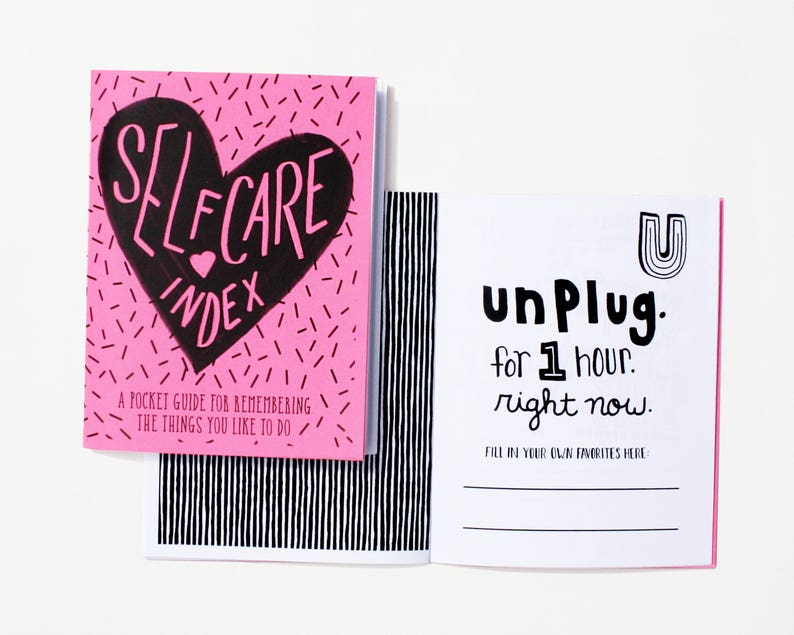 This self care index from Etsy is so darn cute, and so great for those struggling to find the best thing to do for their self care. This little self care pocketbook gives you tons of great ideas for self care. This is a great place to start if self care is still new to you.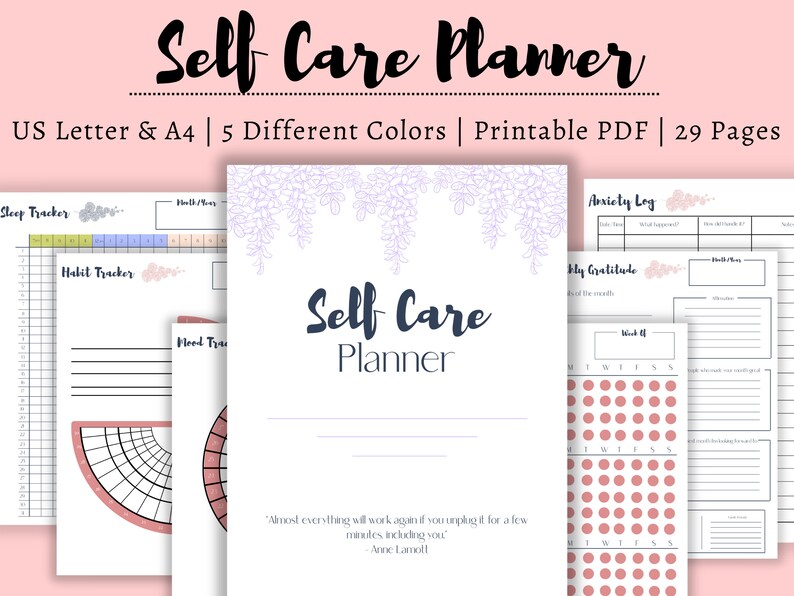 I'm gonna toot my own horn here, but my self care planner is a must have for anyone prioritizing their mental wellness! It's 29 pages worth of self care planning sheets, gratitude journal pages, trackers, self care ideas, and so much more! For only $5.99, it's a hard price to beat!
More Resources From The Overcoming Mom